Where is Patient PT?
Patient PT is on the North side of Bloomington Indiana, located in two suites inside Executive Park North.
Address:
2620 N Walnut Street
Bloomington, IN 47404
Enter the building through the main entrance (see pic), then walk down the hallway to the right and make a left at Olympus Properties (suite 1000).
Clinic 1: Located in Suite 600, next door to Olympus.
Clinic 2: Continue past Clinic 1 and make a right at the next hall. Clinic 2 is in Suite 1250, the first door on the right.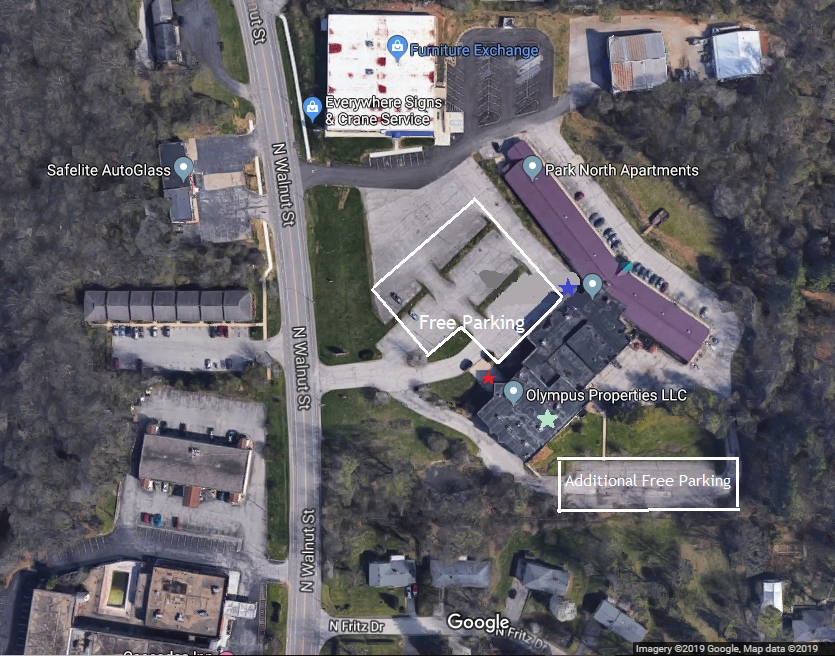 Is the building accessible?
Yes. Wheelchair users and visitors with difficulty climbing stairs or other mobility limitations should use the accessible entrance marked in blue on the satellite and building maps shown on this page.
Where can I park?
The parking lot at the front of the building is free and provides easy access to the main entrance (shown in red on interior map) and the disabled access entrance (shown in blue on interior map).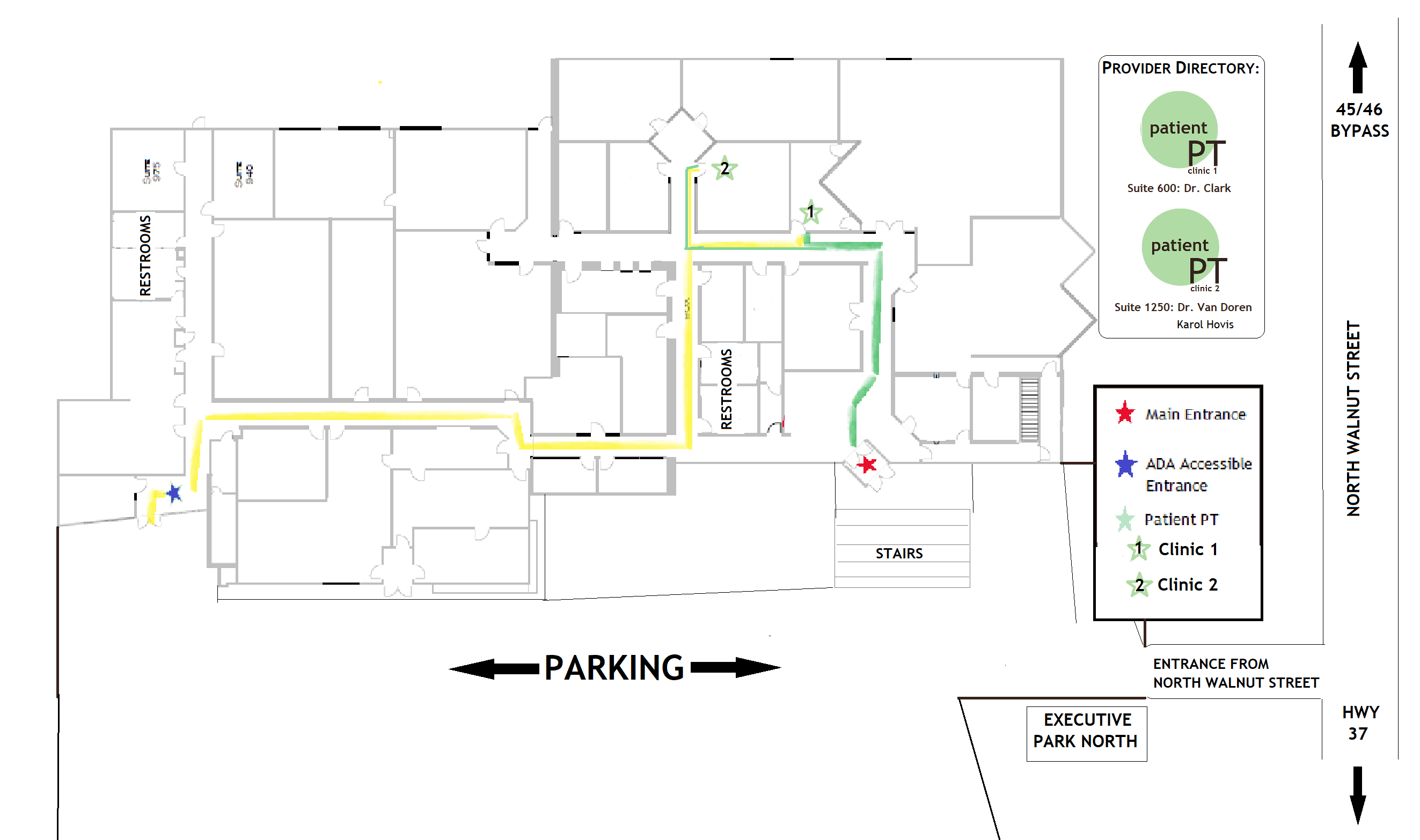 Should I arrive early to fill out paperwork?
There is no need to arrive earlier than the scheduled appointment time in order to fill out paperwork. At Patient PT, there is additional time built into each appointment to allow both the patient and the provider ample time to take care of paperwork, payment, and scheduling.
New clients should allow an additional 15-30 minutes beyond scheduled therapeutic time, while existing clients need only allow an additional 5-10 minutes for debrief and payment. Clients who need to leave appointments by a specific time should let their therapist know at the beginning of their session. Forms will be provided electronically to any clients who wish to fill out their paperwork in advance.
Because Patient PT operates on a one-on-one, by-appointment-only basis, clients who arrive early may find a "Do Not Disturb" sign on the door. If you arrive early, please make yourself comfortable in the waiting area and the doctor will see you as soon as she is available.
Do I need a prescription or referral?
No prescription or referral is needed to begin treatment. Some insurance companies require a referral in order to issue reimbursements, so insured clients who wish to seek reimbursement for direct-pay services at Patient PT should inquire before scheduling. Clients who elect to continue PT for more than six weeks may seek a prescription to continue care.
What is Direct Access?
Thanks to a recent update of the physical therapy practice act for Indiana, patients have "direct access" to physical therapy for up to 42 days, which means they may go directly to the physical therapist for evaluation and receive treatment for up to six weeks without seeking a referral. Patients still in need of additional therapy after six weeks may seek a referral from a physician, physician's assistant, nurse practitioner, or even a chiropractor.
Can I file for insurance reimbursement?
Yes. For those who have insurance and would like to seek reimbursement, we will provide an invoice that includes the relevant billing codes and provider information.
Clients are responsible for understanding the coverage and reimbursement policies under their insurance policies. Prospective clients may download a sample invoice to pre-verify reimbursement with insurance.
Does Patient PT accept my insurance?
All services at Patient PT are eligible for payment by Health Savings and Flexible Spending account, but Patient PT is considered out-of-network for all insurance companies.
Patient PT does not accept health insurance because health insurance is for profit, not for patients.
Red tape and bureaucracy at for-profit health insurers and providers have resulted in higher costs and lower quality of care than that of any other industrialized nation.
Health insurance companies require providers like Dr. Clark to negotiate and re-negotiate rates, wait 30-120+ days for payments, get outside payment approval before providing care, and gamble on whether a plan of care will be approved (by folks without medical training whose job it is to save money for their company, not save people from their pain). Despite all this, health insurance companies often refuse to pay for services they deem "unnecessary."
At Patient PT, the patient and the healthcare professional work together to decide what is best without wasting time and money on interference from profit-motivated insurers. That means better value for less money.
What does Direct-Pay or Cash-Pay mean?
In order to provide the highest quality care at the lowest cost, Patient PT is a direct-pay therapy clinic. This means we are considered "out of network" for all insurance companies and do not provide insurance billing services.
Unlike other therapy clinics, Patient PT provides transparent, up-front cost information for all services offered. Clients will never receive a bill in the mail because we offer flat rates that are capped, even if a session runs long or includes multiple treatments. All charges must be paid at the time of service (unless prepaid as part of a package or offered under our pro-bono program), and most services are eligible for payment via Health Savings Account or Flexible Spending account. We accept check, cash, and all major credit cards.
Why would I pay for PT out of pocket?
Thought still uncommon in the Midwest, in today's senseless world of high deductibles, per-visit co-pays, and profit-driven plans of care, you might end up saving money paying direct for physical therapy.
There is no pressure to commit to long plans of care with multiple visits a week. Many problems can be resolved in four or fewer visits. For some conditions, just one visit is enough!
Medical insurance billing adds a substantial amount to overhead (costs behind the scenes) without improving the quality of patient care. Rather than sacrifice valuable time and priceless quality of care, Patient PT keeps everyday rates low, offers pro-bono services to those of limited means, and uses flexible treatment plans to ensure our services are affordable for as many as possible, with or without the benefit of health insurance coverage.
Not everyone is comfortable with paying for healthcare out-of-pocket, but the early adopters who come to Patient PT for the absolute best in patient-centered, non-invasive, evidence & results-based care can tell you, it is worth the money.
Does Patient PT offer sliding scale or pro-bono services?
Yes, Patient PT offers free wellness care services for patients of limited means. Anyone with a chronic pain condition (pain lasting 3 months or more) and a household income of $60,000 or less is eligible to apply.
Patients interested in applying for this program may view full eligibility requirements and download an application here. Please email [email protected] with inquiries.
If you would like to donate to support the ongoing availability of free services for the less fortunate at Patient PT, you may make a non-tax deductible donation here.
Is Patient PT a non-profit?
No. Founder Kelly Clark considered establishing Patient PT as a non-profit 501(c)3 for some time before ultimately deciding that it was not for her. Though the mission of Patient PT is to provide the best care possible at the lowest cost, the additional paperwork and oversight required to maintain non-profit status are time-consuming and would not guarantee any increase in quality of care, or even result in lower costs.
How can I help?
Book. First and foremost, you can help by letting Dr. Clark help you! Book an appointment to see how supportive and helpful healthcare can be while supporting this local, female-owned business today.
Donate. To provide our clients with ongoing opportunities to help those less fortunate, at the end of each appointment when payment is collected, clients have the option of adding a donation to their total payment for the appointment, in the same way other services would allow the addition of a gratuity.
All fees and overhead are absorbed by Patient PT to ensure that every penny donated goes directly to support reduced cost and free services to the less fortunate. Patient PT also accepts donations to support pro-bono services via cash, check, charge, or paypal in any increment.
Spread the word. Tell your friends and family members about what we're doing. Grateful former clients and patients are also encouraged to leave reviews for Patient PT on Google, Yelp, and Facebook.
Dr. Clark believes that her time is best spent providing awesome wellness care and letting word-of-mouth do the advertising for her. These reviews are the absolute easiest way to spread the word about the unique Patient PT approach. Dr. Clark reads and deeply appreciates every single review as she continues to build this practice.
What if I am sensitive to light, sound, smell, specific substances, or otherwise have non-standard needs?
Patient PT strives to be a sensory-friendly facility. Dr. Clark is neurodivergent and sensitive to a variety of stimuli herself, so Patient PT was built from day one to offer clients a more soothing experience than an average physical therapy facility.
Specifically, that means that florescent lighting is filtered to reduce brightness by ~15%, soft indirect lighting is available (as requested or deemed therapeutically appropriate by the treating clinician), music is ambient and played at a low volume, fragrance-free hypoallergenic oils and lotions are used for all treatments, and clients have designated chairs and spaces to place their possessions during the session. Treatment tables are covered with soft microfiber or flannel linens during sessions and can be heated for additional comfort.
Further, sessions are one-on-one with the clinician to maximize privacy. Each treatment room is outfitted with a white noise machine to minimize the transmission of sound to adjacent rooms and suites. Client chairs and treatment tables have a minimum working weight capacity of 600 pounds, and chairs with and without armrests are available. Instructions are provided using both visual aides and written materials the client may take home for future reference are often provided. Every PT and preventative wellness care client receives printed full-color home exercise instructions with pictures and descriptions tailored to their needs as demonstrated during sessions.
Patient PT is located in a shared office building, so many elements and outside noise are not within the control of Patient PT representatives. If you have a suggestion for how we can make your visit to Patient PT more comfortable, please share it with your clinician and we will do our best to accommodate you.