Mission Statement
To foster lifelong wellness and maximize patient empowerment through education and skilled, research-informed, empathetic care.
The Patient PT Difference
Why choose us? Whether you're looking for physical therapy, therapeutic massage, or preventative wellness, Patient PT offers patient-centered care, flexible scheduling, affordable rates, and hands-on pain relief. Patient PT promises:
No surprise costs. Specific, flat fees for all services  available are posted on this website and reviewed at the time of booking to ensure our clients never receive an unexpected bill for services already rendered.
Customer satisfaction counts. Healthcare today is more expensive and harder to access than it ever has been. People often wait weeks or months to get an appointment that starts late, ends early, and ultimately offers limited options or no answers at all. Patient PT offers:

Low-cost screening and consultation
Same day & next day appointments
Easy, flexible scheduling
Collaborative treatment plans
No pressure to commit to weeks or months of appointments

Thoughtful, focused, evidence-based treatment. At Patient PT your care is 100% between you and your therapist. Patient PT does not double or overlap appointment times, so you never need to worry about privacy, being forgotten on an exercise bike, or being pushed out the door at the end of your appointment.
No judgment. Patient PT is a judgment-free zone. If you haven't gotten help because you are worried about the quality of your care being affected by the way you look, who you are, how / how long ago your problem started, or simply because you have had bad experiences with healthcare in the past, give Patient PT a try. We are here to help.
Maximum patient empowerment. Our mission is to help you feel better in whatever way we can, while offering choice and cost-conscious treatment plans. Our whole-person approach helps to ensure that our clients understand the origin of their condition and the different ways it can be managed so they can make informed health & wellness decisions.
Patient PT is a growing team of diverse and independent therapists brought together by a shared vision of empowering people with the skills and support they need to live their lives pain-free. Our patient-centered practice model enables our clients to make informed healthcare decisions without the interference of for-profit health insurance companies or reliance on referrals from providers who might not have their best interests in mind.
Instead, therapists at Patient PT each build their own private practice through word-of-mouth referrals from happy clients, and community engagement focused on education and equal access for all.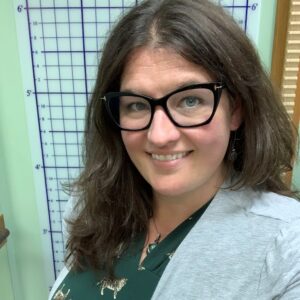 Kelly Clark - Physical Therapist, Massage Therapist
Quick Facts
Licensure: Physical Therapist, Massage Therapist, State of IN
Training:

Massage Therapy Certification via Parkland College, Champaign IL, 2005
 Doctor of Physical Therapy, Indiana University at  Indianapolis Class of 2019

Services Offered: Preventative Wellness Care, Physical Therapy, Therapeutic Massage, Age Well at Home House Call Service, Public Speaking, Group Wellness Training, Consultation
Sessions Available: Tuesday - Friday, 11 AM - 7 PM
Location: Clinic 1, Executive Park North Suite #600
Direct Line / Text: 812.558.0708
About Kelly
Kelly is originally from central Illinois and has been a Bloomington resident since 2006. In addition to her unique skillset as a dual-licensed physical therapist and massage therapist, Kelly's first career included work in technical writing, grant writing, immersive education, computer programming, data management, and client service. She is the Founder of Patient PT, and you can read more about that from her below.
Alison Van Doren, Physical Therapist
Quick Facts
Licensure: Physical Therapist, State of IN
Training: Doctor of Physical Therapy via Indiana University at Indianapolis, Class of 2022
Services Offered: Physical Therapy, Pelvic Floor Therapy, House Calls, Preventative Wellness Care, Consultation
Sessions Available:

Mondays 9:30-5 pm
Tuesday-Wednesday 9:30am-6:30pm
Need a different day or time? Please ask!

Location: Clinic 2, Executive Park North Suite #1250
Direct Line / Text: 812.558.0693
Fax: 855.975.0608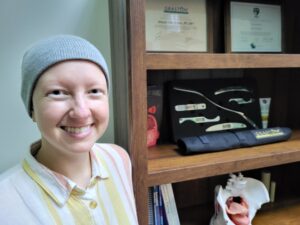 About Ali
Dr. Alison Van Doren earned a Bachelor's degree in Literature in Florida before becoming a rare non-IU transplant to Bloomington. In the decade before PT school, Ali dedicated time to several community projects including Boxcar Books, and co-ran a successful eco-friendly house cleaning business.
Having long struggled with persistent pain, Ali had a transformative experience with therapeutic exercise and decided to pursue a degree in Physical Therapy to make these life-changing skills more accessible to communities which often lack access to quality care. Ali believes that relief is possible, and more simple than it often seems. It takes a curious and collaborative partnership between clinician and client, something we don't often experience in healthcare. Ali provides individualized whole-person, body-affirming care that is tailored to your specific needs.
Dr. Van Doren is Pelvic Health Level 1 and Level 2 certified through the American Physical Therapy Association. Ali is excited to incorporate pelvic floor, an often-overlooked part of the body, into a trauma-informed understanding of movement, health, and well-being. To learn more about Dr. Van Doren in her own words, please read her introductory blog here.
About Patient PT
My name is Kelly Clark, and I am the founder of Patient PT.  I worked in a variety of industries including information technology, eLearning, technical writing, and grants administration prior to returning to school full time in 2013 to fulfill my lifelong dream of becoming a physical therapist.
I have been a licensed massage therapist since 2005, and ran a successful sole-proprietor massage therapy practice in Bloomington until around 2010. I discontinued practice as a massage therapist for several years due to what I believed at the time to be an overuse injury of my hands that would only worsen if I continued to do the work that I loved.
During my education to become a physical therapist, I learned how to reverse and then maintain my progress after that overuse injury. I am now able to offer massage therapy and other manual therapies without pain or fear of ongoing overuse injury, and teach my patients and clients to manage their own symptoms independently as well.
In addition to my history of overuse injury, I had an undiagnosed chronic pain disorder with worsening symptoms from 2008-2017. I was eventually diagnosed with a common vitamin deficiency during my training as a physical therapist, and view my experiences in self-rehabilitation from that missed diagnosis as both formative and invaluable in my clinical care of chronic pain sufferers.  I am a proud graduate of both Indiana University Bloomington and the Indiana University Doctor of Physical Therapy program at Indianapolis.
During my clinical rotations and observation hours at eight different Bloomington Indiana facilities offering both inpatient and outpatient physical therapy, I realized that my approach to PT is dramatically different than most thanks to my experiences both as a patient with a pain condition that went un- & mis-diagnosed for almost a decade, and as the immediate family member of a patient who passed away due to a disorder subject to widespread bias. Fortunately, my experiences as a sole-proprietor massage therapist taught me that being an entrepreneur doesn't need to be nearly as risky or difficult as many people believe. The rest is now history.
I believe that people have a right to approachable, affordable, patient-centered healthcare. My clients are free to book  massage appointments with me as needed to manage their symptoms without committing to a course of treatment - though many folks do decide they'd like to try PT or preventative wellness care after they've met me and asked me a few questions. I encourage clients to decide for themselves when and if they are ready to commit to working with me on a focused plan. Physical therapy sessions still include massage and Graston as needed, but add therapeutic exercise, health and wellness education, posture modification, and movement re-training to give patients the skills to feel better for the long haul.
I held a fundraiser during my Grand Opening Celebration in September of 2019 to establish a pro-bono fund for the patient population dearest to my heart, those with persistent pain and limited financial means.
To learn more about me and why I founded Patient PT, visit the Patient PT Blog. If you are a healthcare practitioner or interested in concepts such as health disparity, advocacy, social determinants of health, biopsychosocial models of practice, or wellness advantage, disadvantage, and privilege, please visit my practitioner and healthcare disruption-focused blog, PT For The People.
What are you waiting for?
Book an appointment today, and feel better.