The Greater Bloomington Chamber of Commerce recently held an awards ceremony to celebrate locals and organizations "for going above and beyond the call of duty to serve the Bloomington community during the COVID-19 pandemic." Patient PT founder and physical therapist Dr. Kelly Clark was honored as an Unmasked Hometown Hero for her work as the cofounder and organizer of Bloomington Mask Drive.
Bloomington Mask Drive is an all-volunteer effort to provide free fabric masks to Bloomington and Monroe County residents and fight the spread of COVID-19. Bloomington Mask Drive was founded on March 20, 2020, when Dr. Clark began to collaborate with cofounder Nola Hartman of the Bloomington Quilters Guild. Nola had already recruited many talented sewing enthusiasts from the Quilters Guild to make masks based on a design she developed with a pediatrician in need of masks for her clinic. When Nola and the quilters were flooded with ongoing requests, Dr. Clark stepped up to help create a distribution system that would minimize cross-contamination and prioritize those at high risk of exposure, such as caregivers and those employed at skilled nursing facilities.
Bloomington Mask Drive is presently building a network of community partners that host self-serve mask stations for easy, ongoing access to masks for all who need them. As of September 2020, Bloomington Mask Drive has distributed 30,000 free masks to Bloomington and Monroe County.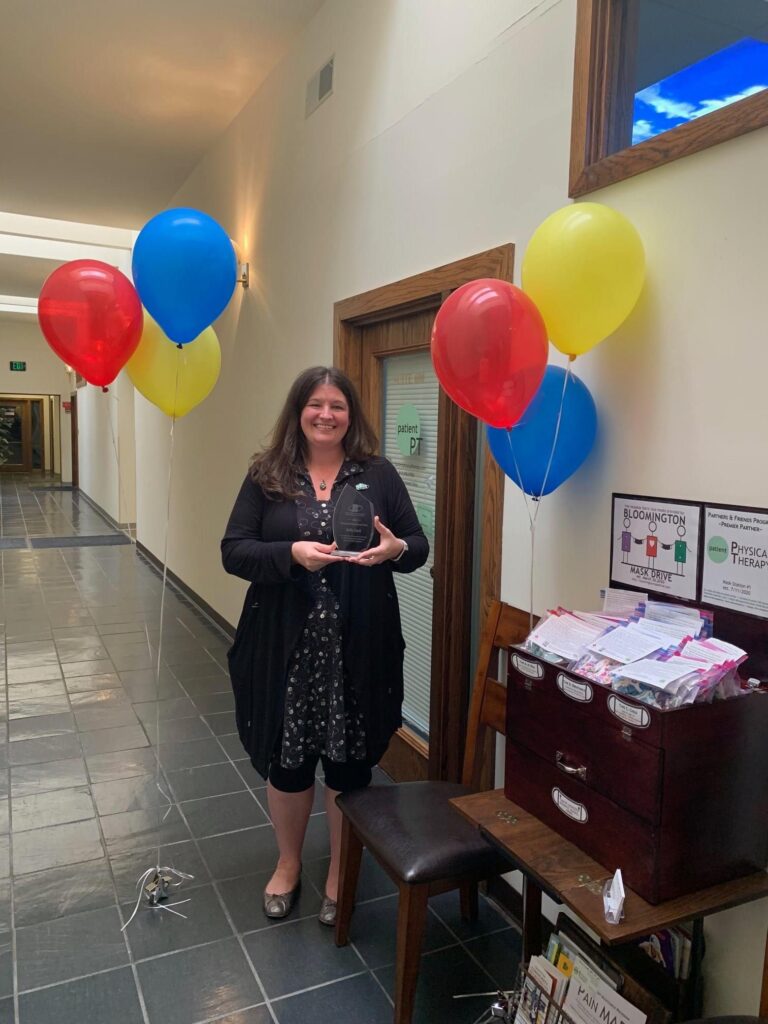 On August 20, 2020, Dr. Kelly Clark was honored alongside seven other awardees, including the Bloomington Health Foundation, Hoosier Hills Food Bank, and Monroe County Public Health Administrator Penny Caudill. Awardees were selected by the Greater Bloomington Chamber of Commerce from among those nominated by members of the community. Each awardee was presented with an etched trophy and a gift certificate sponsored by a local restaurant in advance of the virtual festivities on August 20th.
Full List of Unmasked Hometown Hero awardees:
Julio Alonso, Executive Director & CEO of Hoosier Hills Food Bank
Bloomington Health Foundation
Sean Buehler, former director of the Monroe County Isolation Shelter (Shalom Community Center) and current medical student at Indiana University School of Medicine
Kelly Clark, owner of Patient PT and co-founder of the Bloomington Mask Drive
El Centro Comunal Latino – CCL
Jaimie & Ed Schwartzman, owners of BuffaLouie's at The Gables
Jeff Mease, founder & CEO of One World Enterprises
Penny Caudill, Director of the Monroe County Health Department
Click here for a behind-the-scenes snippet of the intro that greeted Dr. Clark when she signed in for the virtual award ceremony.